Welcome to the Mining Simulator Wiki!
⛏️ About ⛏️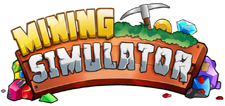 Mining Simulator is a ROBLOX game developed by Runway Rumble.

Team up with your friends, or go on a solo mining expedition to discover rare gems and become rich!
⛏️ Recent Activity ⛏️
⛏️ Poll ⛏️
What do you think about the Sir Minesalot Challenge?
This Wiki
Active Users: 1,420 Edits: 48,039